"Please show your Health Code." Almost all public places in China have posted such requests at the entrances nowadays. Health Code, a three color-based application, is rolled out to control people's movements and curb the coronavirus's spread. A local government then proposed a Gradient Health Code to rank citizens based on smoking, sleeping, and medical records.
English translation by Giulia Polettini – Read in Chinese
by Yiran Zhao
"Please show your health code", a few months after the spread of Covid-19, this request is attached on the entrance of almost all public places in China. A health code that is available through Alipay [a payment platform spreadly used in China] , through programs like Wechat [the app number one in China, literaly used to do anything, from blogging, instant messaging to ordering food, booking a flight, paying etc…] and local apps or other platforms and that it can be obtained only after that the government service platform has acquired your name surname, id number and phone number. A green code, means that you are free to go. A yellow or red code, means different levels of risk to contracting the new Coronavirus.
Authority, means ownership
After the validation of your identity, your personal health code situation can be shown in a few seconds. The logic at its base follows factors as your movements history, the permanence time in a risky area, as well as the relationships with potential carriers, in order to evaluate people level of hazard, though the specific algorithm hasn't been published yet.
While we think that the classification operated by the staff of social medias is based on the information filled in by individuals, interests and precise personal behaviour that are constantly fed, the health code emerges instead as another new type of control system: for which you do not need any autonomy to fill out or engage. The birth of the health code can't be found in the moment you authorize it, but before that. Also, the environment it uses does not follow your abitual actions but it is instead a civil obligation with a mandatory nature: "Without a green code you cannot enter".
Focault called discipline the politic of power, by establishing the relationship between this discipline and the rules he created the value of power. To this extent, the debate on the question of individual privacy and safety, takes the right to health safety and it transfer its target to the individual person, driving it on a panoramic operational model.
Apart from hospitals and public transportations, also some big companies or even small private groups and forums, started to use the green health code to develop their own social duty, along with the safeguard of the security of their event attendees. The green code symbolize a decentralized and panoramic power model.
Data can be wrong too
When the access to the network can be viewed as a kind of human right, it is very difficult to accurately identify marginalized people's position drifting outside the data. Those who live in impoverished areas, or the elderly, who don't know how to own and generate a health code, will be rejected by public transportation and in other building. Also the display and tracking of the regions mainly rely on phone numbers, but the name identity registration in phone numbers took place earlier than the Internet era, so sometimes the problem is that the person tracked by the phone number do not correspond to the original registered person. As for the rating of risk level and division of the regions, it is even more difficult to handle: when Beijing is divided into orange areas, then locating people living in adjacent areas is closely related to the level of accuracy of the position based on the cellular stations sites, wifi coverage, GPS and Bluetooth.
What is more costly than wrong data is that there is no manual to guide you how to change your status. After being classified as orange, all you can do is to spend the quarantine time staying at home. The inability to self-prove the wrong data itself overlaps with the authority status of these data.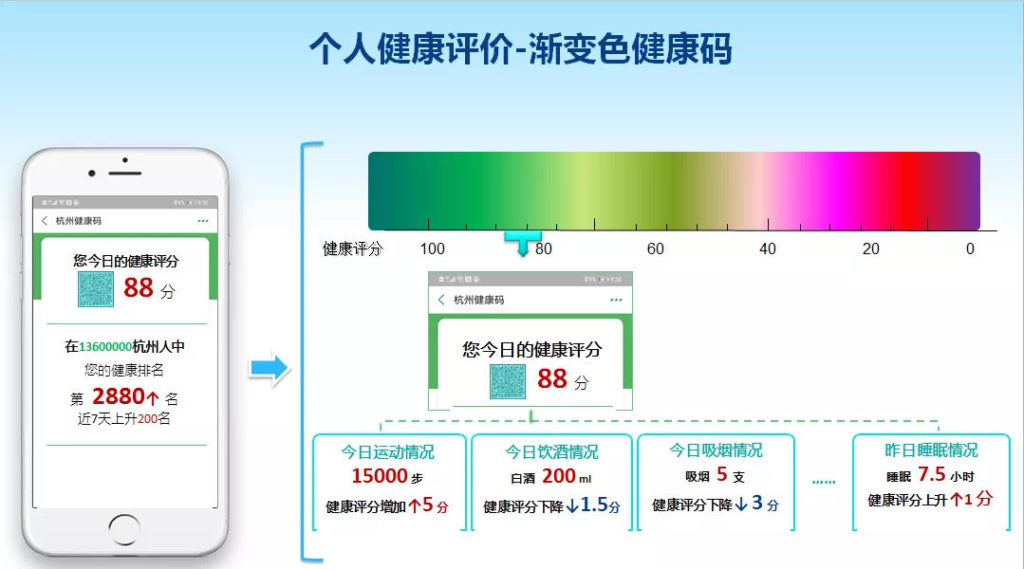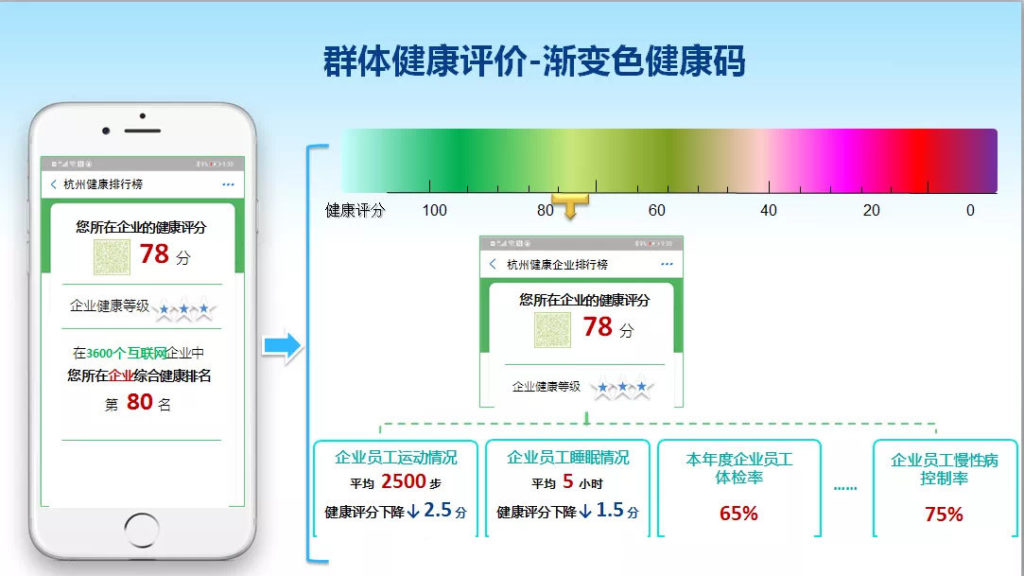 Health lies beyond 3 colors
On May 22nd, the Health Commission of Hangzhou municipality, where Alibaba is located, envisaged, through electronic medical records, health checkups and other related data, to set up a personal health gradient index, ranked from 0 to 100, and released a collective appraise of healthy groups within corridors, communities, and enterprises. Although this was only an official plan, it still has been enough for people to be amazed by the health code.
After that, to manage the public health the privacy right is crossed and [after], being labelled with the "three colors" to ease its management, it is also possible that the trend may go on with "progress", "competitivity", and "performance" gradients. Will the health privacy data of "chromatic gradient" be spread by a wider range commercial capitalism? What kind of "inequality" will the employee health data cause?
We have to admit the possibility that after the new crown pneumonia, people have begun to adapt to this exceptional state and habitually transfer personal privacy interactions for big data to take over control. It may be possible that the existence of "people" itself will also lie in the spectrum of the chromatic gradient, labelled with the pattern of (R, G, B) [international color model used by most devices].
About the author
Yiran Zhao lived in China for almost twenty years and then moved to Taiwan to get a Bachelor's degree. Now she is in the Netherlands as a Research Master student in Media Studies at the University of Amsterdam.